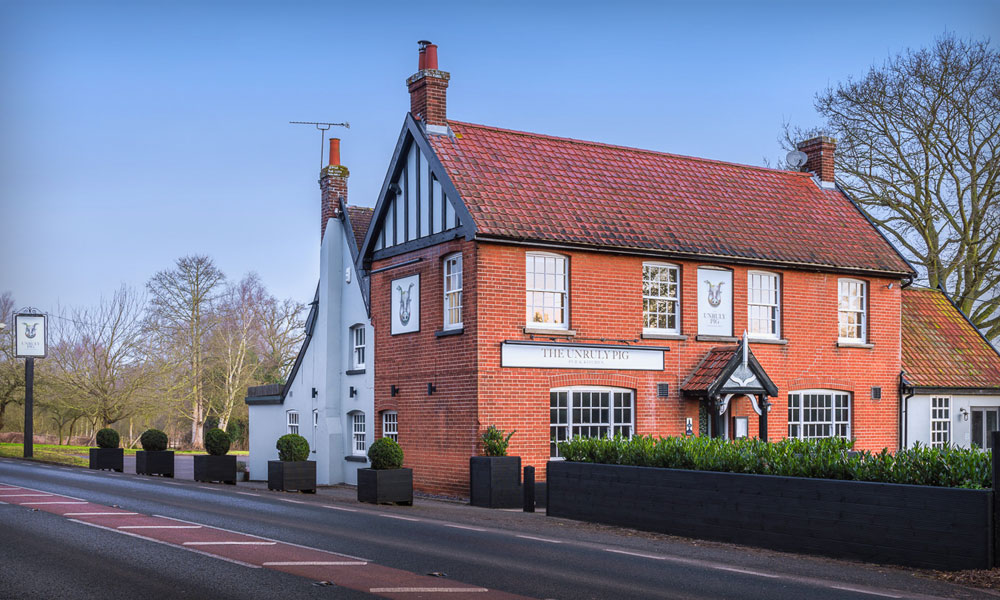 Privacy Policy and Terms and Conditions
Welcome to our website (the 'Website'), theunrulypig.co.uk, which is accessible via your computer or your portable hand-held device The Website is provided by The Unruly Pig ('The Unruly Pig', 'us', 'we' or 'our' for short). 'you' and 'your' means you as the user of our Website.
1. Privacy and your personal data
1.1 The Unruly Pig is committed to protecting the privacy of our users and customers. This privacy policy (Privacy Policy) is intended to inform you how we gather, define, and utilise your Information (as defined below).
1.2 It applies to Information collected by us, or provided by you, whether in one of our restaurants, over our Website (including the mobile optimised version of the website accessible from your portable hand-held device) or in any other way (such as over the telephone). It is also intended to assist you in making informed decisions when using our Website and our products and services. Please take a minute to read and understand the policy.
1.3 All your personal Information shall be held and used in accordance with the Data Protection Act 1998 (the 'Act') and General Data Protection Regulation (GDPR) . If you want to know what information we collect and hold about you, please write to us at: The Unruly Pig, Orford Road, Bromeswell, Nr Woodbridge, Suffolk, IP12 2PU
1.4 The Unruly Pig is the data controller of your Information for the purposes of the Act and is a company registered under number 09333111.
2. What Information Do We Collect on our Website?
2.1 When you visit our Website (including the mobile optimised version of the website accessible from your portable hand-held device) you may provide us with personal information such as name, address, email address, credit/debit card details and mobile phone number ('Information'). You may provide us with Information in a number of ways:
(a) by corresponding with us by email, in which case we may retain the content of your email messages together with your email address and our responses; and
(b) by booking a table online; and
(c) by Information provided when you use our mobile optimised website from your portable hand-held device including details of your physical location, where you have agreed to it being used.
2.2 We may collect information about your computer, including where available your IP address, operating system and browser type and the geographical location of your computer for system administration, and we may report aggregate information to our advertisers. This is statistical data about browsing actions and patterns and does not identify you as an individual.
3. Cookies
3.1 Similar to other commercial websites, our Website uses a technology called 'cookies' and web server logs to collect information about how our Website is used. A cookie is a very small text document, which often includes an anonymous unique identifier. When you visit a website, that site's computer asks your computer for permission to store this file in a part of your hard drive specifically designated for cookies.
3.2 Information gathered through cookies and web server logs may include the date and time of visits, the pages viewed, time spent at our Website, and the websites visited just before and just after our Website.
3.3 Cookies, in conjunction with our web server's log files, allow us to calculate the aggregate number of people visiting our Website and which parts of the website are most popular. This helps us gather feedback so that we can improve our Website and better serve our customers. Cookies do not allow us to gather any personal Information about you and we do not generally store any personal Information that you provided to us in your cookies.
3.4 We use 'session' cookies which enable you to carry information across pages of the Website and avoid having to re-enter information. Session cookies enable us to compile statistics that help us to understand how the Website is being used and to improve its structure.
3.5 We may also use 'persistent' cookies which remain in the cookies file of your browser for longer and help us to recognise you as a unique visitor to the Website, tailoring the content of certain areas of the Website to offer you content that matches your preferred interests.
3.6 You can refuse to accept cookies by activating the setting on your browser which allows you to refuse the setting of cookies. However, if you select this setting you may be unable to access certain parts of the Website.
4. How Do We Use The Information That You Provide To Us?
4.1 We use your Information in the following ways:
(a) to ensure that content from our Website is presented in the most effective manner for you and your computer or device;
(b) to notify you about changes to our service;
4.2 We may pass your Information to carefully selected third party organisations:
(a) where this is required for the purpose of supplying the services available through our site (e.g. facilitation of restaurant bookings);
(b) if we buy or sell any business or assets in which case we may disclose your Information to the seller or buyer of such business or assets;
(c) if we are under a duty to disclose or share your personal data to comply with any legal obligation or in order to enforce or apply our terms and conditions and other agreements or protect the rights, property, or safety of our customers, or others. This includes exchanging information with other companies and organisations for fraud protection and credit risk reduction.
5. How Can You Access And Correct Your Information?
5.1 You may request access to all your Information that we collect online and maintain in our database by writing to us at the following address:
The Unruly Pig, Orford Road, Bromeswell, Nr Woodbridge, Suffolk, IP12 2PU
6. Your Consent
6.1 By using our Website you consent to our collection and use of the Information as described in this Privacy Policy. If we change our privacy policies and procedures, we will post those changes on our Website or otherwise notify you to keep you aware of what information we collect, how we use it and under what circumstances we may disclose it.
7. Where we store your personal data
7.1 Data and Information that we collect from you may be transferred to and stored at a destination outside the European Economic Area ('EEA'). You consent to our sending and storing Your Information outside the EEA. We will take all steps reasonably necessary to ensure that your Information is treated securely and in accordance with this Privacy Policy.
8. Security
8.1 We maintain the highest standards of security. However the transmission of information via the internet is not completely secure. So, whilst we will do our best to protect your Information, we cannot ensure the security of your data transmitted to our Website. Any information you submit is sent at your own risk. Once we have received your Information we will use strict procedures and security features to prevent unauthorised access.
9. Third party sites
9.1 Please remember that when you use a link to go from our website to another website, our Privacy and Cookies Policy is no longer in effect. Your browsing and interaction on any other website, including websites which are linked to ours is subject to that website's own rules and policies.
Terms and Conditions
Introduction
We have set out the terms under which we are providing you with access to our Website and its products and services. These include the terms and conditions that govern:
(a) your use of our Website (including the mobile optimised version of our Website accessible from your portable hand-held device);
(b) your use of the services and products offered through our Website;
(c) your rights to link to our Website;
(d) how we will use and protect information about you (see our Privacy and Cookies Policy)
Collectively these documents are termed as the Terms of Use.
We may change our Terms of Use from time to time. The revised Terms of Use will be available via the Website. You should check the Terms of Use regularly to ensure that you are happy with any changes. You will be deemed to have accepted any changes to the Terms of Use after you have been notified of the changes on our Website home page and you continue to access or use the Website.
Use Of This Website
These Terms of Use set out how you may use our Website. By accessing the Website, you agree to these Terms of Use.
If you do not agree to these Terms of Use, you should not use the Website. You should read all the Terms of Use prior to using the Website. You should also save and/or print out a copy of these Terms of Use for future reference.
Accessing Our Website
Access to our Website is permitted on a temporary basis. We update our website regularly and so may change the content at any time without notice to you. We reserve the right to withdraw, vary or suspend the service at any time without notice.
You are responsible for making all arrangements necessary to access this Website. You are also responsible for ensuring that all persons accessing our Website through your Internet connection are aware of these Terms of Use.
Please note that use of our Website is subject to your computer and/or portable device complying with our minimum standard technical specification and compatibility notice. You are advised to check this specification to ensure that your computer and/or portable device is compatible with our products and services and we shall not be liable for any failure arising in the Website which arises from incompatibility (including, without limitation, minimum storage and memory requirements from time to time).
Reliance On Information Posted
Materials posted on our Website are not intended as advice and should not be relied upon as such. We therefore disclaim all liability and responsibility arising from any reliance placed on such information to the fullest extent permissible by local law.
Where we provide details of our restaurant menus, we make no promise that those details will be available in our restaurant on a particular day – all menus are subject to availability.
Linking To Our Website
You may link to any page of the Website for non-commercial purposes, provided that you do so in a way that is fair and legal and which does not damage our reputation or take advantage of it. For the avoidance of doubt, the linking site must not contain any adult or illegal material or any material that is offensive, harassing or otherwise objectionable.
You must not link to our Website in such a way as to suggest any form of association, approval or endorsement on our part where none exists. You must not remove or obscure, by framing or otherwise, advertisements, any copyright notice, or other information published on the Website. Our Website must not be framed on any other site.
If you would like to link to our site for commercial purposes or any purpose not included above, please contact The Unruly Pig, Orford Road, Bromeswell, Nr Woodbridge, Suffolk, IP12 2PU.
We reserve the right to withdraw linking permission at any time and without notice.
Third Party Sites
Our Website and/or the Materials may contain links to third party websites, for example Facebook and Twitter. Your browsing and interaction on any other website, including websites which have a link to our Website, is subject to that website's own rules and policies including in relation to privacy. Please read those rules and policies before proceeding.
If you decide to visit any third party site, you do so at your own risk. We are not responsible for the content, accuracy or opinions expressed in such websites. Links do not imply that we are, or our Website is, affiliated to or associated with such sites.
The inclusion of any link in our communications with you does not imply endorsement by us of the linked site. If you decide to access linked third party websites, you do so at your own risk.
Please remember that when you use a link to go from our Website to another website, these Terms of Use including our Privacy and Cookies Policy are no longer in effect. Your browsing and interaction on any other website, including websites which are linked to ours, is subject to that website's own rules and policies.
Information On The Website
If you find any content on the Website to be in any way offensive, obscene, defamatory, racist, harmful, inaccurate, unlawful, illegal or deceptive in any way, please notify us by emailing us at accounts@theunrulypig.co.uk using the subject heading 'Objectionable Content'.
On receipt of your complaint we may remove or block access to the content complained of.
Our Liability
To the fullest extent permissible by law we exclude and disclaim all warranties, terms, conditions and representations that might otherwise be implied by law in relation to this Website. In particular we do not represent or warrant that the Website will be error-free, free of viruses or other harmful components, or that defects will be corrected. You must take your own precautions in this respect.
We do not accept liability for any failure to maintain the Website.
We shall not be liable under these Terms of Use for any indirect, special, incidental or consequential damages or otherwise, even if advised of the possibility of such damages.
The Materials may contain inaccuracies and typographical errors. We do not warrant the accuracy or completeness of the Materials.
We shall not be liable for any loss caused as a result of your actions or inactions based on the Materials available on this Website. However, nothing in these Terms of Use shall affect your statutory rights, and nothing in these Terms of Use shall exclude our liability for:
(a) death or personal injury arising through negligence;
(b) fraudulent misrepresentation; and/or
(c) anything else that cannot be excluded or limited by us under English law.
Indemnity
You agree to compensate us and our respective directors, officers, employees, and applicable third parties in full from and against all third party claims, liabilities, losses and expenses (including reasonable legal fees) suffered by such persons arising out of, related to, or which may arise from Your Content and/or any breach by you of any term of these Terms of Use.
Serviced Countries
This website is provided for users in the United Kingdom only. Whilst access may be possible from outside the UK, this website is not intended for such use and such users access the website at their own risk.
Legal Compliance And Applicable Law
These Terms of Use shall be governed by the laws of England and Wales and any matter or dispute arising in connection with them shall be subject to the exclusive jurisdiction of the courts of England and Wales. All contracts formed by these Terms shall be construed in English.
You are responsible for compliance with applicable local laws relating to the use of or otherwise connected with the Website. To the extent that the Website or any activity contemplated by it would infringe any law of a jurisdiction other than England, then you are prohibited from accessing or using the Website or attempting to carry on any such offending activity and this provision shall override all other provisions of these Terms.
Contact Us
If you have any concerns or queries about material which appears on our Website, have any suggestions for improvements, or if you have questions about your use of this Website or these Terms of Use, please email us on info@theunrulypig.co.uk. Our postal address for correspondence is Orford Road, Bromeswell, Nr Woodbridge, Suffolk, IP12 2PU.